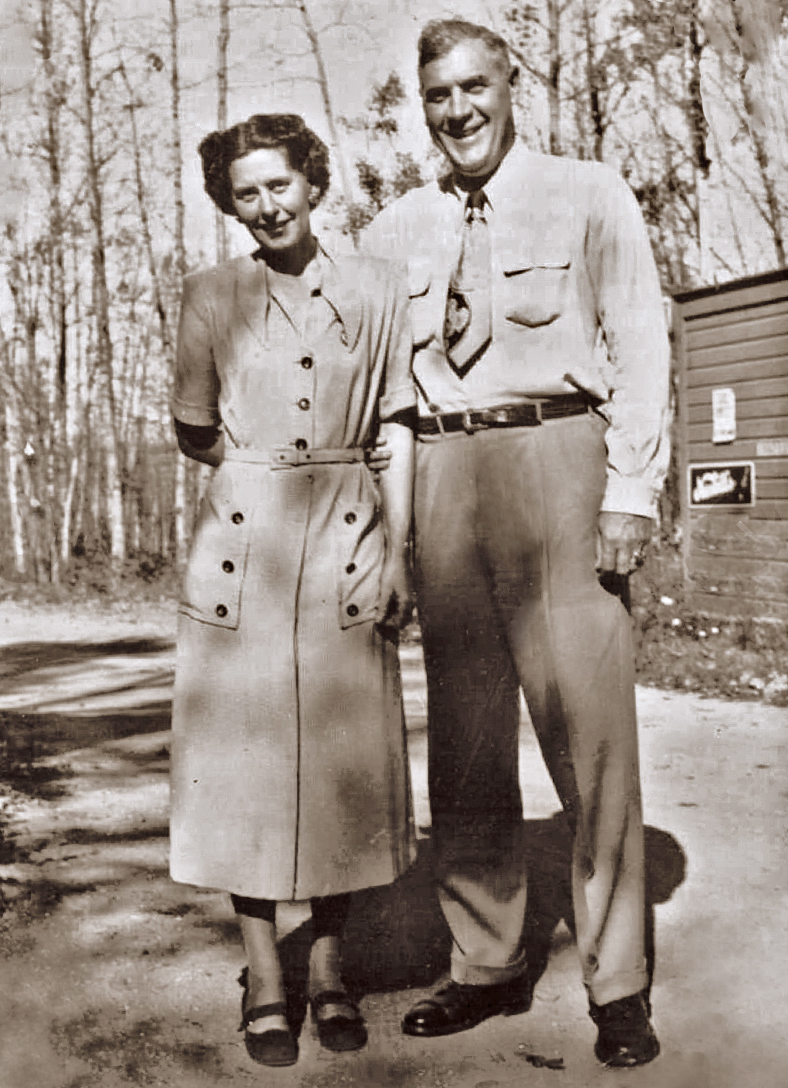 Rainbow Resort - Our History

Rainbow Park | Mike & Michelle Millagan (Historical Photo)
Michael (Mike) Daniel Milligan was the son of Irish immigrants (from Northern Ireland) and was born somewhere in Pennsylvania. His father worked in the Steel Mills, and his mother was a Seamstress. He only had a 10th grade education. He went to work in the Steel Mills at the age of 16. He had one sister, that he rarely mentioned and we never knew her name, but we know she went to California and lived out her life there.
Dorothy Michelle Milligan was the granddaughter of German immigrants, John Bosslman and Pauline Patzer. Their daughter, Ella, was Dorothy's mother. Dorothy's father worked in the Steel Mills in Pennsylvania and died in an accident in the Mill. We have no record of his name. Her Mother Ella, died of pleurisy when Dorothy was 3 years old. The physician who attended to Ella, adopted Dorothy and her last name now became "Wood". Dorothy never spoke of her family and our "Ancestry" searches throughout the years have provided no leads or info for us. We do not know what city or town she was born in, we only know that it was Pennsylvania.
We don't know how or where Mike and Dorothy met and married. We remember references to the fact that her adoptive parents disapproved of Mike because he was a blue collar worker and "from the wrong side of the tracks" as it was referred to in those days.
We also don't know how, or when they came to Michigan and bought Rainbow Park. The Mio Herald will have the article that they published when Mike and Dorothy purchased it. The county or city land records may also be of help as to who and when Rainbow Park first came about or what it was before Mike and Dorothy bought it. We know the big original Lodge House was already there, the boat house, boat launch, and a few cabins, and that Mike and Dorothy built it up from there. Millie's cabin is also a mystery to us, as it "was always there" and an elderly lady named Mildred, used to occupy it in the summer months until she passed. We are not certain that is was part of the original Rainbow Park, or if not, when it was acquired.
We "think" our Dad, William (Bill) was less than 10 years old when they moved there. He was never happy there, it was all work to him, and at that time, it was VERY remote. No big power lines, only 2 or 3 other cabins back along the road that is behind the resort now and nearly no one lived year round along Camp Ten Road. He was popular in school and excelled in sports, but for the most part, he was growing up there as a lonely only child. He was in his late teens when Gran and Gramps bought the Cocoa Beach house in Florida and wintered there every season. Dad LOVED Florida, and rather than stay and run the family business, right out of High School, he enlisted in the Army and promptly found himself in the Korean War. When he finished his service in the Army, he went back to Florida. He met our Mother, Ann, while she was on her Senior Trip to Florida. Ann is from Garden, in the U.P., near Big Bay De Noc. Dad followed Mom back to Michigan where he worked as a Pilot on the big Ore boats on the Great Lakes, he was based out of Sault St. Marie, then he was a steel jack in Iron Mountain, until he finally began his own custom homes building company in Saginaw. He was 27 yrs old and Mom was 23 when I was born in 1958.
I was around 4 years old when we started spending every summer at Rainbow Park. Mom loved it, but Dad stayed in Saginaw to run his business. My 2 elder sisters hated it as well, it was nothing but work for them, whereas I loved every minute of it. I viewed the work as "just chores" and we didn't work every day, or even all day. When chores were done, we were free to run the woods like little wild critters and we were taught all manner of skills by my grandparents, hunting, fishing, canning foods, shooting, archery, gardening, and of course all about raising and training hunting dogs, small boat motor repair, driving the tractor, launching boats, you name it, if we were big enough to handle it, we got to do it.
When I was 13, Dad moved the family to Orlando, Florida, where he once again began building custom homes and he did very well for himself. I hated Florida with a passion, so, I got to come back each year to Rainbow Park in mid-April when my grandparents returned from Florida, and I came back to Florida each year in the Fall with my Grandparents.
My last summer at Rainbow Park was the summer before my Senior Year in High School. After high school, I joined the Army (did 10 years) then transferred over to the Air Force. Life just kept me away, until I came back this year. So much has changed, yet so much remains the same. It will ALWAYS be the same in my heart.